This Is A First iAnglo Will Do Its Own Testimonial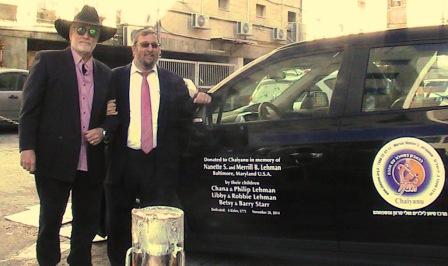 Every once in a while Heaven gives you a glimpse into how your work affects other people's lives.
September 2014 I received a call from Mr. Pinsky the Director of Programs and Services of Chaiyanu a regional chapter of an organization called Chailifeline.org. They needed a new 7-seat vehicle to transport children who are battling different forms of cancer, so we quickly went to work to see what arrangements we could make. The budget was determined and weighed against their specific needs. We located the car and made the initial arrangements for the purchase.
Of course its good business to get the background on potential clients so we went to their website, and after viewing what they do for these special children and their families, we called the seller back and asked for some special concessions. We were very pleased with the response: several thousand more shekels were taken off the purchase price.
Fast forward to the last week of November 2014. Still blind to the magnitude of the effect that this car was going to have on Chaiyanu of the Chailifeline.org  family, we were invited to the dedication; it was held Friday the 28th of November 2014. There were two assumptions on our part up to our attendance of the dedication.
1.       It was assumed that our location and negotiation resources were used to replace a vehicle that was aging in the fleet, or to add to an existing fleet for expansion purposes.
2.       We assumed it was a multipurpose dedication - new vehicle, maybe some office upgrades, new equipment etc.  
As we pulled into the parking lot of their main offices in Givat Shaul, I noticed the lot was full of people standing around the new 7-seat vehicle all taking pictures. What had not set in yet was that this is the whole fleet and the sole purpose of this event. You see, up to this point they have been making due with cabs and buses to transport these children for day trips, for emergencies, and assisting the other family members that are affected by these illnesses.
Every once in a while Heaven gives you a glimpse into how your work affects other people's lives.  If you can help please contact them, thier contact info is below

Thank you Mr. Pinsky
Hezy BenTzur