The Leasing Advantage
"Equity" Myth or Reality?
---
Page still under construction Jan 2020
the numbers that are given below are accurate
The Elephant in the Room 




That No One is Talking About 
As consumer consultants for English-speaking Israeli's, iAnglo Auto Association stays current on automobile market trends enabling us to better advise our clients as to which programs and services are best suited for their individual circumstances.
A Hard Look at Private Leasing
and It's "Equity" Position
The # 1 reservation clients assert as to why they are reluctant to utilize a lease program is that they will not build up equity like they assume that they will in a conventional financing contract. This statement, while technically true, is in practical terms false; you really do have equity in leasing and this equity is the "elephant in the room" that no one is talking about.
To illustrate our point, let's compare a purchase to a lease of two very popular cars in Israel today. All payments include VAT, and are in ₪.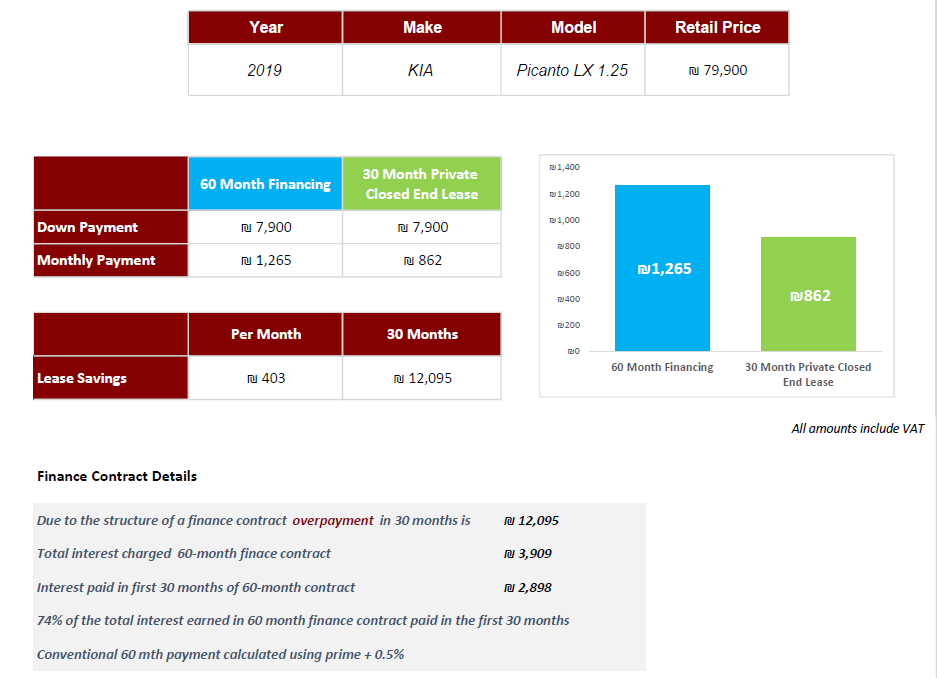 Conventional 60-month contract payment, 403 ₪ more per month.  This means that in 30 months you will pay 12,095 ₪ more to buy then to lease. There is more,  In an effort to emulate a lease by selling a car just before the warranty expires after the bank loan is paid off there may or may not be money left over. If there is does it sound reasonable that it would be in excess of 12,000 shekels?  The answer is no it could not be.  
It's common for people to mistake money they have left over from a sale as equity when in reality it is merely the recapturing of amounts that were overpaid. 
There is the "equity" - the elephant in the room no one talks about.  
---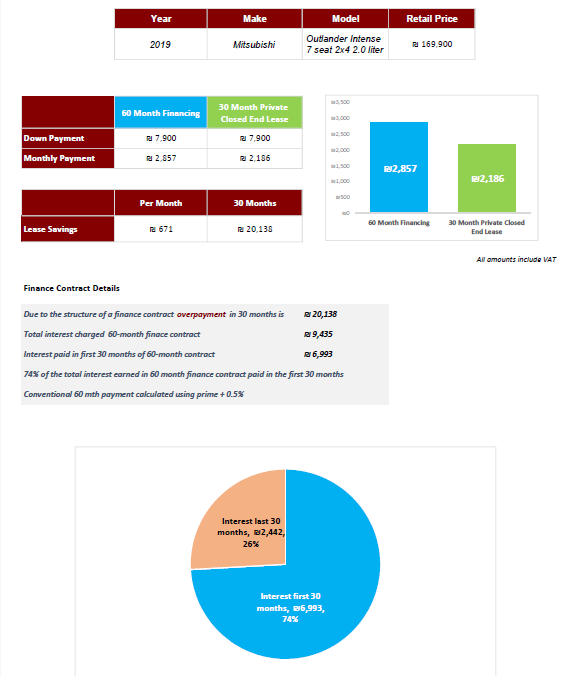 ---
Summary
There is more than the monthly and overall savings.  Everyone knows that the first three years of a cars life is the best, which is why manufacturers are comfortable giving a warranty - the chances of these new cars needing repairs are slim.  With the money you saved you can in 2.5 years take another new car and enjoy the continued factory protection against repairs. 
Cars are the most fuel efficient, powerful, safe, and tight in handling and noise reduction, in the first 3 years of life on the road.
Turn your automobile costs into a controlled utility payment with no unexpected repair or volatile depreciation costs.  Contact us today by completing this short form - or


Options are great, if you prefer conventional financing because it is more familiar or you intend to keep the vehicle for many years then please visit this link. Back to main lease page.